2021: One Year of Hanklights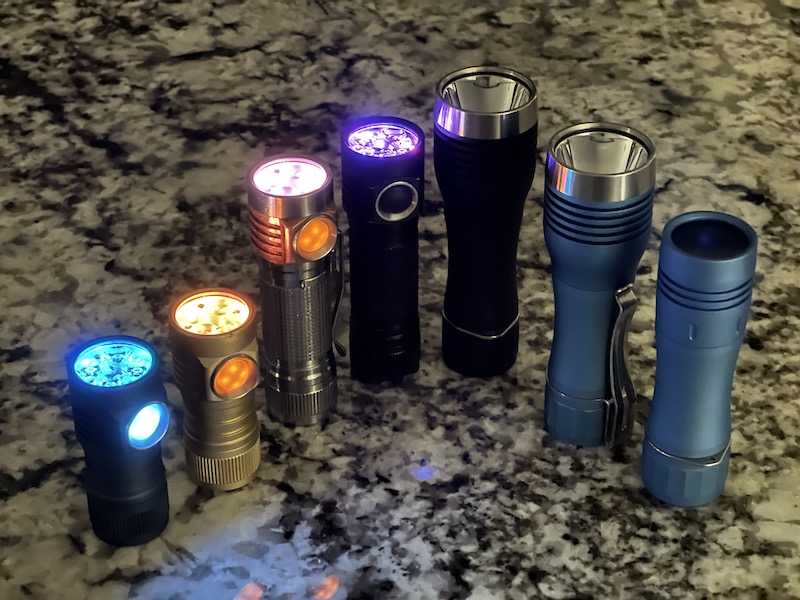 The whole family all together. So many clicks, so much joy.
| Model | Body | Emitter | Usage |
| --- | --- | --- | --- |
| D4V2 | Grey | XP-L 4000K | I keep this in my EDC bag. |
| D4V2 | Sand | E21A 2000K | Gave this to my wife as a present so she can get that warm sweet incandescent glow from the E21A. |
| D4V2 | Ti | 219b 3500K | Love using this around the house in the evenings. |
| D4V2 | Black | SST-20 4000K | The OG for me: holds a place in my heart, and enjoy seeing the black anodizing wearing away. |
| KR1 | Black | W1 Green | makes light saber noises |
| KR1 | Cyan | W1 White 6000K | Don't have a good place for this right now. |
| KR4 | Cyan | 3W UV Mule | Used for checking if the puppy's peed on rugs. |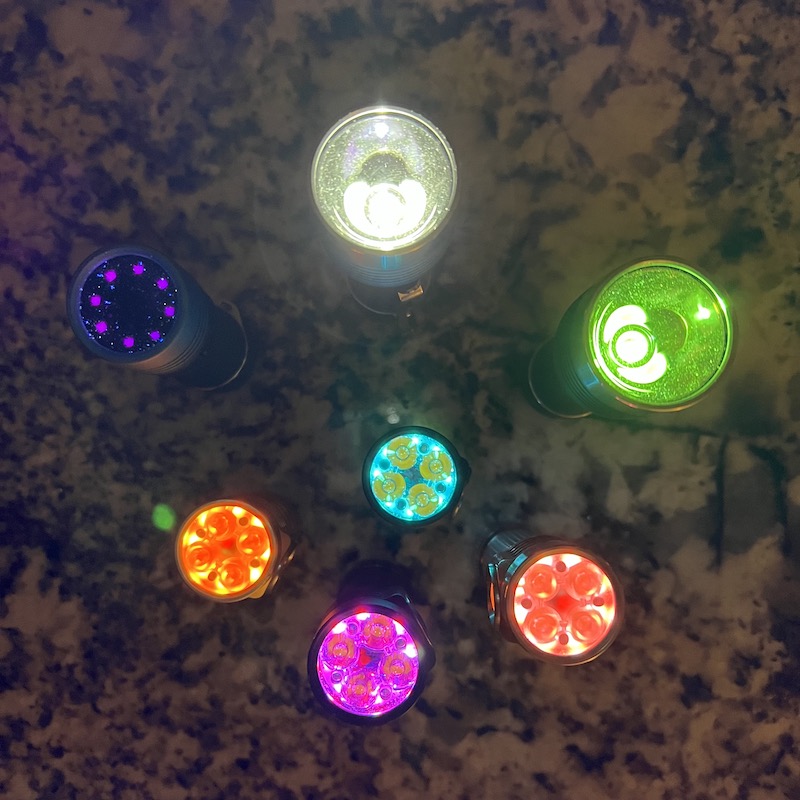 A peer down at the emitters of the whole collection.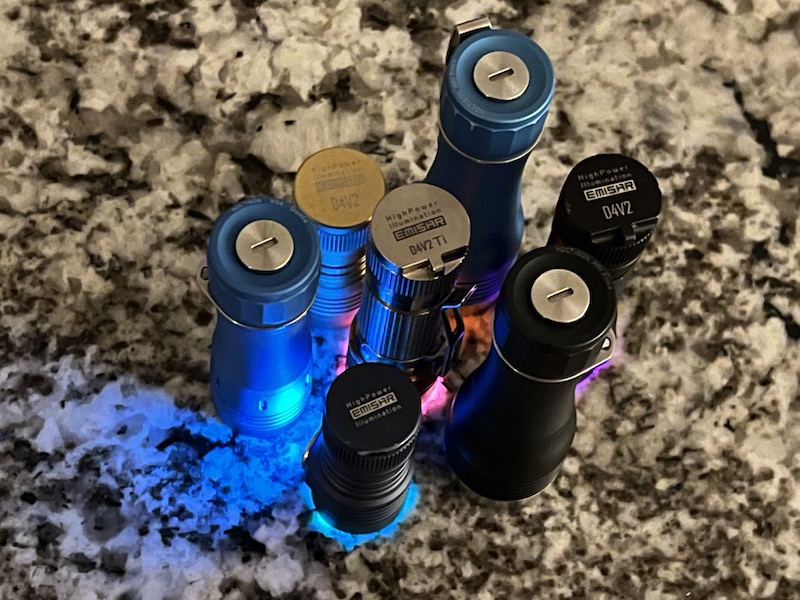 Alright everyone, shake that booty.
Emisar D4V2
This whole journey started with the humble black aluminum D4V2 with the SST-20 4000K. I followed it up with a D4V2 Ti with the gorgeous 219b 3500K once the 219b's were made available again with Hank.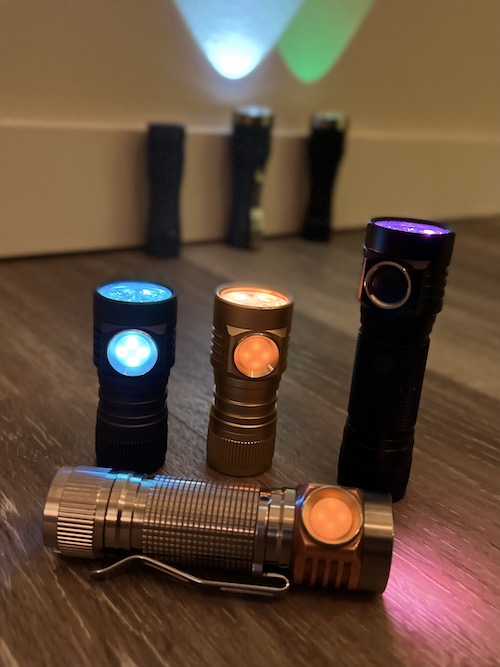 Emisar D4V2 family shot: cyan and amber switch lights.
The SST-20's 95 CRI was so impressive to me, and I really wanted to explore other emitters to compare. When I got the D4V2 Ti, the weight and heat on the head were noticeable. It found a place in my daily use as an indoor light to use in the evenings when walking around the house, going to the bathroom, or when I wanted to feel like a jedi with that copper/silver style. I keep the floody optic on the 219b since I generally use it for ceiling bounces or lighting up the area in a room.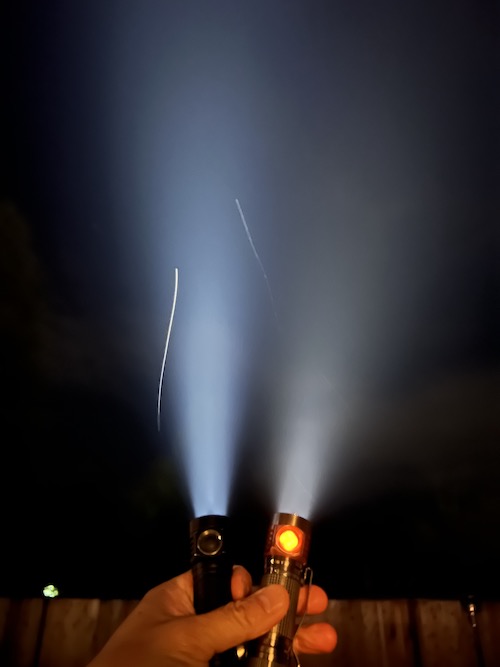 Emisar D4V2 beamshots: SST-20 4000K, 219b 3500K.
After that, I wanted to explore the XP-L and directly compare the 4000K between it and the SST-20. The SST-20's wins in the CRI battle in my opinion, but the wow-factor with the amount of output the XP-L gives is impressive and is always fun to show folks.
I wanted to give my wife a warm light for her to use too. I got her the sand D4V2 with the E21A 2000K for maximum warmth and hygge. I also got it with the 18350 tube so it wouldn't take up too much space in her purse.
Aww, the shorties are just too cute!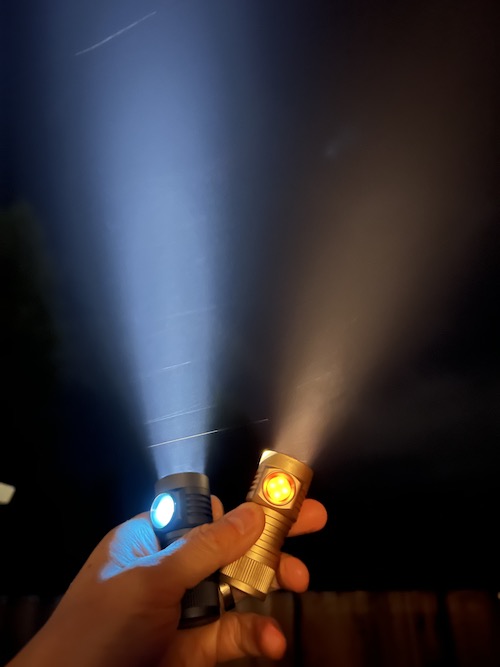 Emisar D4V2 beamshots with 18350 shorty tubes: XP-L 4000K, E21A 2000K.
Noctigon KR1
I wasn't too impressed with my first thrower, the Noctigon KR1 W1 6000K. I enjoyed the tight beam, but it wasn't impressive enough for me. But when I got the KR1 W1 Green: man, it's been such a blast bringing it around and wondering how far it can reach. The green color keeps me and my pup visible at night, and it makes me giggle when I light it up in the fog.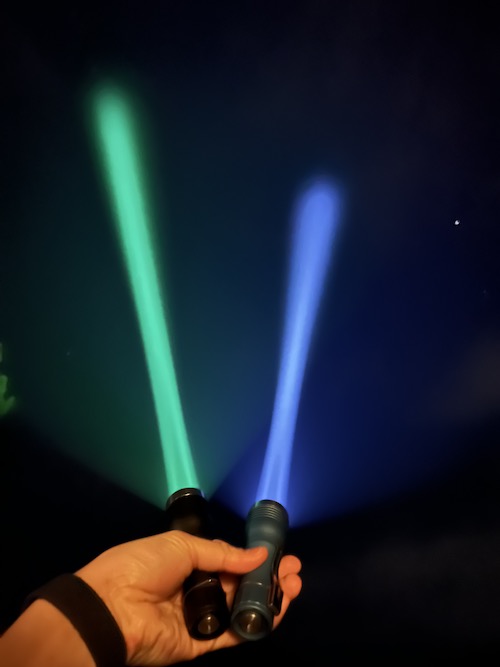 These Noctigon KR1s are too much fun: W1 Green, W1 White 6000K.
What a fun year of illumination!
I've had a blast learning about these awesome lights in the past year from a great community of flashlight enthusiasts. I'm definitely still learning a lot, and I love how many rabbit holes I can go down as I learn more about these fun and wonderful fidget spinners lights.
Happy New Years, and may light guide your way through the darkness.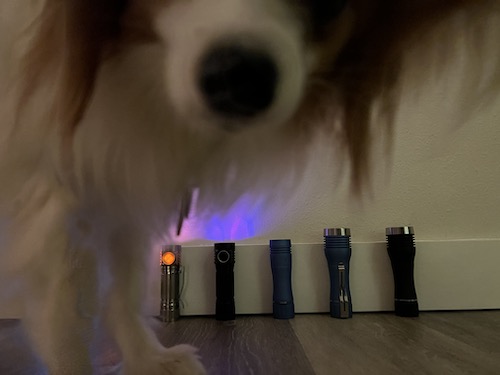 Bozzy, who's my helper in testing lights on evening walks, makes a cameo appearance.