The Sofirn SP40 is a powerful headlamp designed for home, EDC, or outdoor activities like camping, hiking, etc. It can be operated from a single 18650 Li-ion rechargeable battery. The switch controls the following functions: Low-Medium-High, hidden Turbo.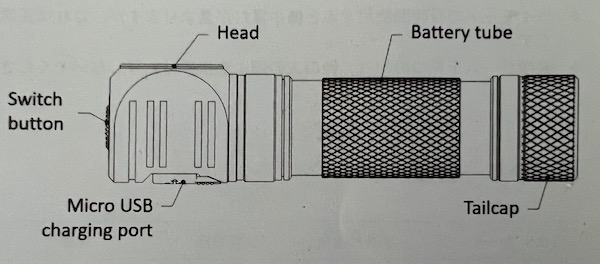 Table of Contents
---
ANSI/NEMA FL1 Chart
Mode
Low
Medium
High
Turbo
Luminous Flux
5lm
90lm
450lm
1200lm
Running Time
220h
15h
4h 10min
1h 50min
Beam Distance
11m
38m
85m
136m
Peak Intensity
29cd
357cd
1800cd
4620cd
Impact Resistance
1 meter (3.28 feet)
Water Resistance
IPX7: 1 meter (3.28ft depth)
Notice: The above mentioned parameters are based on tests according to international flashlight testing standards (ANSI/NEMA FL1) using one 3400 mAh 18650 Li-ion battery in Sofirn's laboratory. Results may vary with different battery or under different environmental conditions.
Specifications
Working Voltage: 2.8V - 4.2V
Battery Options: One 18650 Li-ion battery
Dimension: 108mm (length) x 25mm (head diamter)
Weight: 63±1 gram (without battery)
Flashlight body: Aerospace grade 6061 grade aluminum alloy, CNC manufactured to Military Grade Specification type III hard-anodized anti-abrasive finish to get solid build body, anti-crash geometry, and better heat exchange.
Toughened mineral glass lens
IPX7 Waterproof (submersion up to a maximum depth of 1m underwater for up to 30 minutes)
Reverse polarity protection from improper battery installation
Mode memory: Brightness levels will be maintained, it turns on with the remembered mode (general modes except Turbo)
Advanced Temperature Regulation (ATR) technology: ATR will adjust the brightness level automatically when the driver temperature reaches 55°C to prevent overheating
Power Indicator: The LEd indicator on the switch blinks in green for 5 seconds if remaining battery power is over 30%. When the indicator turns to red, battery condition is below 30%. Flashing red light indicates low power: replace or recharge battery as soon as possible.
Caution:
Operating for a long time in "High" mode will warm flashlight up. This is normal.
Do not stare directly into beam or point it directly into anyone's face.
Battery Specifications
Battery Type
Dimension & Quality
Nominal Voltage
Compatible
Rechargeable
Li-ion battery
18650 x 1
3.7V
Yes
Lithium battery
CR123A x 2
3.0V
Not compatible!
Battery installation: Unscrew the tailcap to insert one 18650 battery with the anode side (+) towards the head, and then screw tailcap back on. Both flat top and button top 18650 batteries are supported.

Operation Instructions
The switch controls all flashlight functions as follows:
Short click to turn on, another click to turn off.
While the light is on, hold the switch to cycle through modes: Low → Medium → High
Doubleclick to activate Turbo mode, one click to return to last mode.
UI Reference
When the light is Off:
| Button | Action |
| --- | --- |
| 1C | On |
| 1H | Cycle through modes: Low → Medium → High |
| 2C | Turbo |
When the light is On:
| Button | Action |
| --- | --- |
| 1C | Off |
| 1H | Cycle through modes: Low → Medium → High |
| 2C | Turbo |
When the light is in Lockout:
| Button | Action |
| --- | --- |
| 1C | Double flash |
| 4C | On |
---
Additional Resources