Emisar DW4, Anduril right angle work light, now available
There's a new member to the Emisar family of lights: the Emisar DW4, a right angle work light that uses the same body as the Emisar D4V2. The new torch is available in both Single Channel and Dual-channel configurations.
The release was announced by Hank on BudgetLightForum after some of his sneak peeks and much anticipation by flashlight enthusiasts.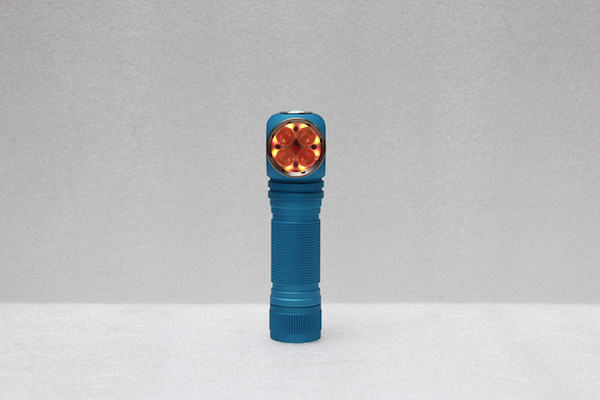 Why should I care?
If you're a fan of the Emisar D4V2 and Anduril UI and have found the current line-up for headlamps in the market lacking, this may be the light for you.
I'm certainly looking into getting a DW4 for my outdoor adventures. Currently, my favorite headlamp is the Skilhunt H04 RC, but on a recent camping trip, I found myself fumbling around with the UI and didn't remember how to configure it. Sure wish I had Anduril on it!
Some things I look forward to:
Being able to re-use D4V2 and DT8 components with the DW4 as well
All the options we're used to for the D4V2/DT8: emitter choice, body color, backlit switch, magnetic tailcap, pocket clip, floody optics, 18350 tube
Speaking of the pocket clip, looks like the DW4 has a new clip!
Flashing pads so the firmware of the headlamp (Anduril) can be updated and customized
Getting a headlamp with a nice warm emitter like a E21a 2000k or even the new E17a 1850k
I think this is a nice upgrade to consider for someone who works as an inspector, plumber, or construction worker. Sure, it's not going to be as rugged and durable as some other lights, but I think as long as you don't need your light to handle a lot of daily abuse, it's a nice way to add some style to your toolkit. I like to think of strong durable lights as trucks and lights like the Emisar/Noctigon lights as high end sports cars.
First look
Some lucky folks have already received the first shipments of the DW4.
u/hilgerone has been generous to share photos:
How much does it weigh?
Here's a comparison of weights between the Skilhunt H04RC, Emisar D4V2, and the new Emisar DW4.
| Model (18650 tube) | w/o battery | w/battery |
| --- | --- | --- |
| Skilhunt H04RC, magnet | 51g | 100g |
| Emisar D4V2, flat button, no magnet | 65g | 110g |
| Emisar DW4, no magnet | 84g | 129g |
What about the headband?
For an addtional cost, you can order a headband with the DW4. I haven't gotten my hands on it yet, but from photos online, it looks pretty similar to the Sofirn SP40 headband with how it wraps two rubber loops around the body of the light.
The Skilhunt H04 RC headband is my favorite right now, and I'm sure that I'm not the only one who thinks so. I tried clipping in my D4V2 into it, but it's pretty tight with the knurling on the 18650 body. But with the 18350 tube, it seems to fit alright. I get the feeling there's gonna be a lot of hacks and ideas that come up for the best headband to use with the DW4.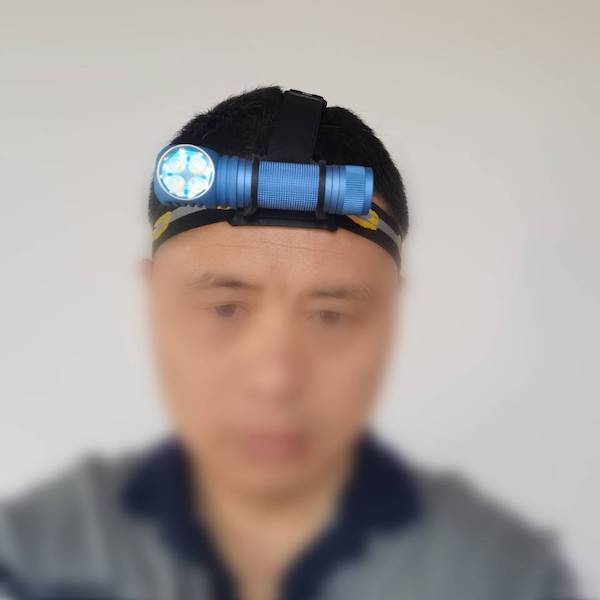 Emisar DW4 with headband. Is that Hank himself???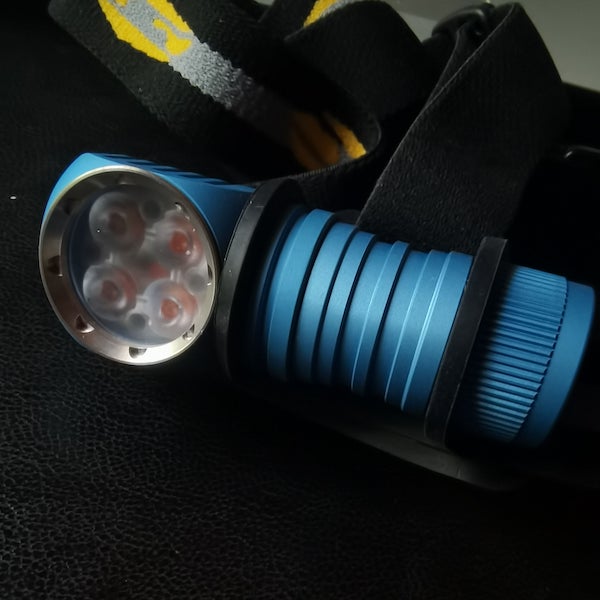 Emisar DW4 with 18350 tube on headband
What's next?
Hank's also recently released the new boost driver, rolling them out to his full line-up, and he should soon be getting the new Nichia 519a emitter as well. These may be worthwhile options for the DW4, as the added efficiency for these options may be worthwhile in helping to keep this headlamp from burning our foreheads while wearing them.
It's still early on, but in the coming weeks and months, I'm sure there will be much discussion and thought about how best to use this new form factor.