Your 1st Enthusiast Flashlight: Noctigon DM11
If you're considering getting a Noctigon DM11 as your first enthusiast flashlight, here are some notes and thoughts that can help you with your purchase.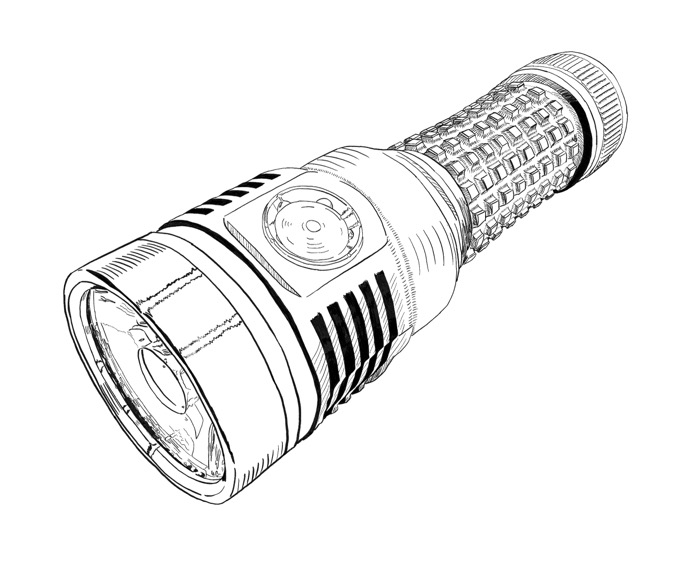 The original Noctigon DM11 was notorious for its "cheese grater" knurling seen here, but is now offered with a less aggressive grip.
General thoughts
If you're looking for a good light to use for lighting things up from a distance, perhaps for pointing at objects on a nearby hill, the DM11 can be a good light for you.
In my opinion, the DM11 has a great "wow" factor that can impress people with how far a modern flashlight's beam can reach. It's not the most insane thrower, but it will likely turn some heads for folks who've never seen what a good thower can do.
The colored LED options are fun choices for using the DM11 at a party or to be easily found in a crowd of people.
I don't think the DM11 is a good light for using everyday as it's a bit big for carrying in your pants. If you're looking for a more all-around general purpose light, consider perhaps the great Emisar D4V2 or Emisar D4K.
Where to buy
You can buy the Noctigon DM11 directly from Hank or from the US reseller JHawaii808. If this is your first enthusiast flashlight, you likely won't have a battery charger or the unprotected flat-top 21700 lithium ion battery that's needed for the light. You'll likely need to end up purchasing these separately.
LED Choices
Hank will often update his selection of LED choices for his lights, and it will be hard to cover all of them here. Some of the most notable DM11 choices for me:
Colored Osram W1/W2s. 900~1300lm/130,000-150,000cd. The W1 will get you the most narrow beam. I have the W2 green that I really like a lot. The green helps make the beam more visible and gives it a fun light-sabery feel.
Nichia B35AM. 1,500lm/48,000cd. Not as crazy throw, but a nice tint and high CRI (98CRI).
SBT90.2. 4,500lm/128,000cd. Expect the light to get hot fast and your battery to drain quickly if you're often running the light on turbo. Known for a greenish tint at lower brightness levels. You get more of a wow, but at a premium price. You probably should not get this for your first enthusiast light.
Purchasing directly from Hank
You'll need to buy a battery charger separately.
You'll need to buy a 21700 battery separately.
For orders to the US, shipping can take 1-2 weeks since orders are delivered from China.
Purchasing from JLHawaii808
You'll pay a little more.
You'll have fewer options for body color, LED choices, and button color.
You can order a 21700 battery and battery charger all on the same site. These can be sold out, though, so you may need to still end up having to purchase them separately.
For orders to the US, shipping will generally be faster than ordering from Hank.
Purchasing the 21700 battery and charger
My favorite shop for getting batteries and chargers is illumn.com. If you're trying to order from JHawaii808 and they're sold out, you can purchase the battery/charger from illumn instead.
For a first-time buyer of an enthusiast flashlight and the Noctigon DM11, I suggest getting:
Unprotected flat-top 21700 battery:
Battery charger: XTAR PB2C, a great portable charger that you can use also as a power bank. I recommend getting 2x 21700's so you can fill up both slots in the charger.
Addtional Resources