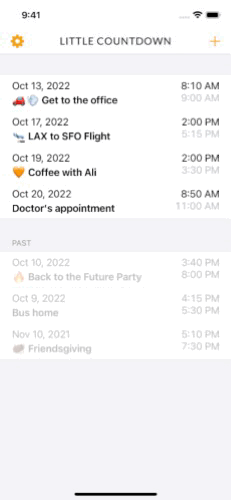 Little Countdown 2.0 is now available for iOS. Just in time for helping you stay on time and stress free for your holiday travels. We rebuilt the app from the ground up and streamlined adding and editing Countdowns.
Your meeting's at 9. Packing up for the kids takes 15 minutes. Dropping them off takes half an hour. Getting to the office is another 20 minutes. What time do you head out the door?
Leave math problems for school. Use Little Countdown.
---
We did a lot of housecleaning to make Countdown better:
Edit Tasks inline in the editor
Swipe to delete Tasks or Countdowns
Hold and drag to reorder Tasks
Alerts now show the next Task
Autocomplete of Countdown title is now more responsive
---
Mike Watts and I had a blast rebuilding the app from the ground up for a better and more streamlined experience. We hope you enjoy it.
Onward!
More