Supposing My Words Are Whiskey
I have the Chinese Edition of this book, published in 2013.
It was gifted to me from my bartender friend when I lived in Chengdu. He knew I'm a big fan of Haruki Murakami and that I also often came in and ordered whiskey.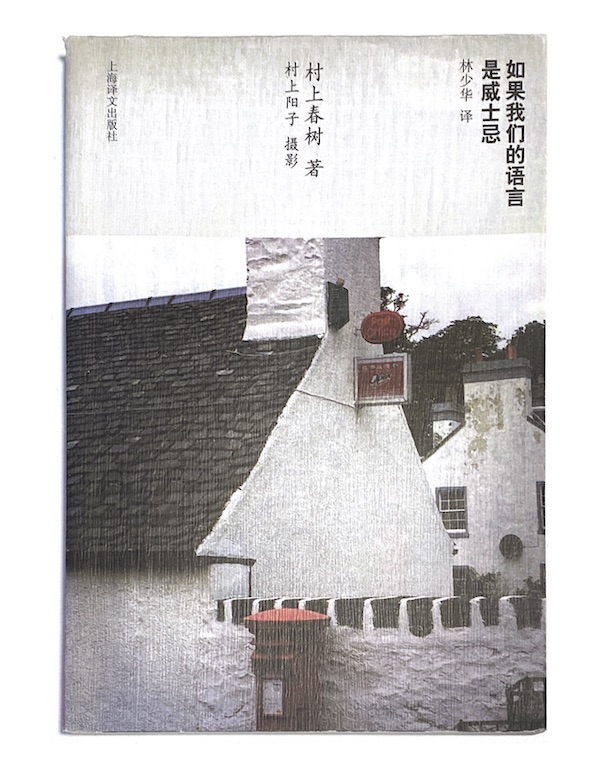 Cover of Chinese Edition
I don't know where you'd be able to find this same edition online. Amazon doesn't have any in stock at the moment, and I don't imagine them getting more.
However, it looks like you can get the original 1999 Japanese edition:
Since there isn't an official English translation of the book, you may sometimes see it referred to online as:
Supposing My Words Are Whiskey
If Our Language Was Whiskey
If Our Language Were Whiskey
The Japanese Wikipedia page for the book says that the writings are based on the essays published in Suntory Quarterly No. 55 (September 30, 1997) and No. 56 (December 15, 1997).
With "whiskey" as the theme of the trip, Scotch whiskey and the story of single malt whiskey and whiskey factories (distilleries), bars and the people who live there, touring around Islay and Ireland in Scotland It covers Irish whiskey and how to enjoy it.
The photography is by Murakami's wife: Yoko Murakami.
Table of Contents
From the Chinese edition:
前言

苏格兰
艾菜岛。纯麦芽威士忌圣地巡礼

爱尔兰
特拉莫尔露是怎样在罗斯克雷的酒馆里被那位老人喝掉的

代后记
My rough English translation:
Preface

Scotland
Islay. Tour of the mecca of pure malt whiskey.

Ireland
How do I drink Tullamore Dew like an old man in a Roscrea tavern?
Postscript
Haruki Murakami loves his whiskey
Whiskey, like a beautiful woman, demands appreciation. You gaze first, then it's time to drink.
---
Additional Resources