February 27, 2020 / Talking with Rabbi Ted: Let's Talk Petaluma
Ali Gaylord, Regional Director of MidPen Housing, says she can, and offers some number crunching to explain why her Foster City non-profit chose Petaluma, and how she believes MidPen can build 40 much needed rental apartments in the heart of our city.
---
Alicia Gaylord of MidPen Housing, developer of Celestine Garden Apartments, accepts one of North Bay Business Journal's Top Real Estate Projects in the North Bay Awards on Tuesday, Dec. 17, 2019, at the Hyatt Regency Sonoma Wine Country hotel in Santa Rosa. (Jeff Quackenbush / North Bay Business Journal)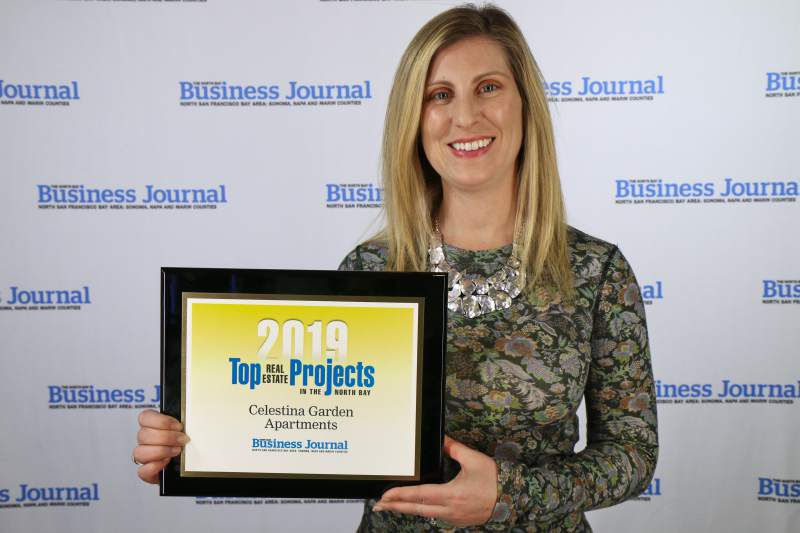 ---
Alicia Gaylord, MidPen's director of housing development for the North Bay, said the nonprofit affordable housing developer was brought into discussions only recently, adding, "We don't have a purchase agreement yet, we have signed a letter of intent."

"We're attempting to get about 80 family units on the site, right now it's too preliminary to get specific," said Gaylord. She said that three the parties – representatives from Norman Krug, MidPen and Sonoma Splash – would be meeting on Tuesday to go over site plan issues, and the hope is to have an agreement in short order.