Coronavirus Quarantine Life
Lockdown in California started in early 2020, and some friends have been getting stir-crazy indoors, unsure how to pass the time. As a well seasoned hermit and nerd, here are some notes and ideas from my own life on how I've been managing the experience of staying at home. Maybe they can help y'all out too.
Morning meditation and stretches
I continue to practice my morning routine. As most folks know by now, having a routine while working from home can help out a great deal in having a structure and to stay productive. Having this practice in place has kept me moving my body as well as kept me staying on top of my self care. It's been over 2 years since I've started it, and it's pretty much like brushing my teeth now.
Gardening
We have various plant friends in our garden right now:
Lemony (our lemon tree)
Basil
Beans
Kale
Each of these have their own different temperaments, and it's been rewarding to care for them and watch them grow every day. Some require more patience, and some (those beans!) grow like gangbusters. It's something to look forward to, helps me feel connected with nature, and reminds me of the world of growth that I'm a part of as well.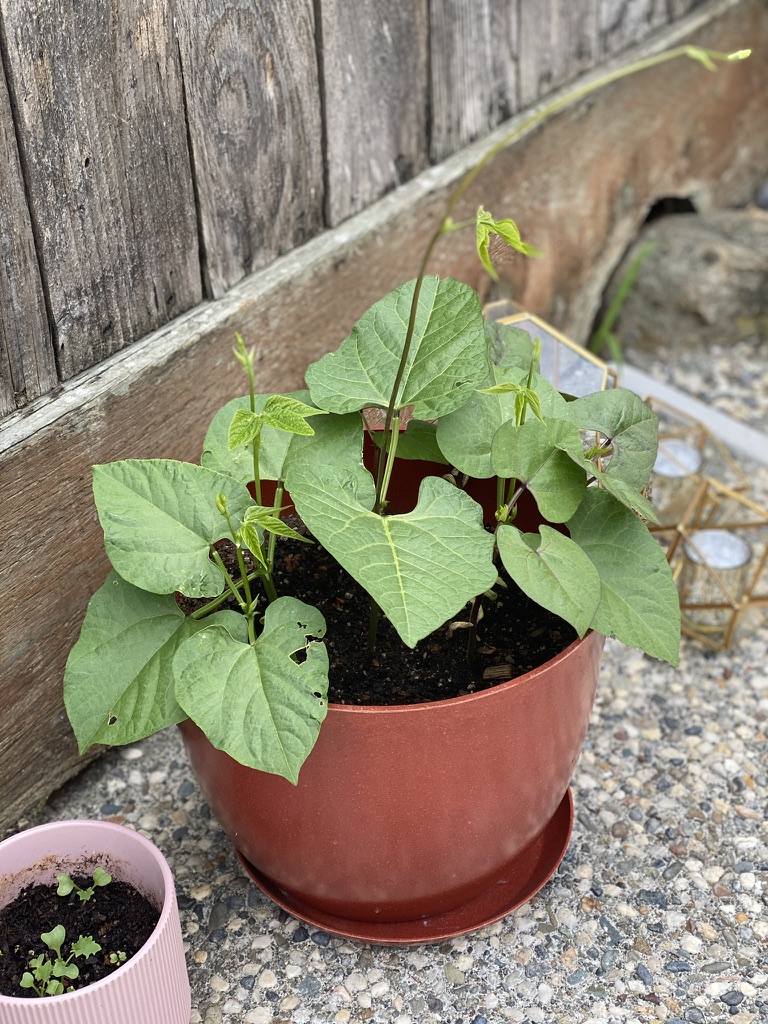 Weekly Virtual Party
The incredibly creative musicians at Golden Bell started the Golden Bell Club, where they host a weekly virtual dance party over Zoom. We call in every week, hook up the audio to our home AV system, and dance away. Golden Bell is really doing some amazing experimental stuff, trying to use the medium for what it is:
Interactive sessions with activities like: yoga, showing off your pets, best lights contest
They'll manage the video, so different people will get spotlighted like on a Jumbotron at a sports game
Guest artists from around the world: Honeycomb, a beat boxer, sounded particularly good with the gritty Zoom audio filters
An experimental jam session to end the evening, where anyone can unmute and join in: it gets weird and wild but awesome!
Just being in the same community of people every week, seeing everyone having a great time, and enjoying each other's company in our own homes has helped us stay connected. Moreover, we're excited to witness the incredible experimentation that Golden Bell has been doing to embrace the new creative constraints that they're in. These are real artists who are constantly working on their performance craft.
Ali and I hired them for our wedding, and they didn't disappoint. Now, they're blowing us away again during the quarantine. We're so happy to be able to support them.
Little Memory
I developed Little Memory, an iOS app for personal growth and self reflection as space for my own journey through life. Since its inception in 2012, it's grown with me, and the community of users with it have also grown to make it a place for self-compassion and support. Seeing my memories from years ago gives me perspective on how our lives can change between days, months, and years. I think it's been especially meaningful for me to write every day during the time in quarantine as a way to reflect on and acknowledge the feelings of uncertainty and anxiety that have been coming up. I look forward to seeing my memories from today in the future.
Oh, what wonders the future will hold!
Project: Taste of the Apocalypse
I started a new project at the start of the lockdown: Taste of the Apocalypse, a kind of a tongue in cheek joke about how we'll slowly turn to eventually eat rice and beans for all of our meals. Who knows what will happen? I'll spend my social media time looking around at what people are eating, getting a feel for the zeitgeist of eating during COVID-19.
I like to find fun Coronavirus-related tweets on Twitter (@TasteApocalypse), and I'll make occasional posts on Instagram (@TasteOfTheApocalypse) as well. Follow me!
Gift Idea: Tripods
Stop staring at your parents' crotches when you're FaceTiming them: surprise them with a smartphone tripod and tripod mount. They'll impress all their friends, and you'll be able to survive the rest of quarantine without having to video chat awkwardly at that stain in your dad's trousers.
If you need a mount for your iPad that works with this same tripod, we got an IPOW iPad Tripod Mount Adapter which has been decent for our needs. It's pretty light and plastic feeling, but I think it's good to keep an iPad mount lightweight so the whole setup doesn't get more top heavy than it already is.
---
I genuinely hope all of you are staying safe and healthy, and I miss seeing all of my family and friends in meat space. I look forward to the day when we can share a beer together and give each other a warm hug, sharing stories and bonding over our experience during quarantine together.